AADHAR Enable Payment Service
RBI and NPCI are working very hard to speedup India's Financial Inclusion system. AADHAR Enable Payment Service has two major type ,As a 1) Micro ATM and 2) Merchant Payment collection system.
Enable Payment Service work very simple way and follow only 3 steps:
Identifying the Bank to which the customer is associated.

Customer's Aadhar Number/ Virtual ID

Customer's Fingerprint captured during transaction.
Bellow are the cases AADHAR Enable Payment making life simple.
Micro ATM
In India Banking penetration is very less and people from tire 3-4 city or village have to travel far away to avail basic banking services like draw money or check balance, etc. Micro ATM velp people to avail these services at door step even without no ATM card only by AADHAR number.
Marchant Payment Collection
Merchant can collect any amount using BHIM AADHAR Pay system. No peripherals required for customers like card or smart phone, Lower Transaction charges, time saving and Seamless fund collection system.
Everybody can use this system as it's very simple and No need to remember PIN & Passwords, pay from any Aadhaar enabled bank account.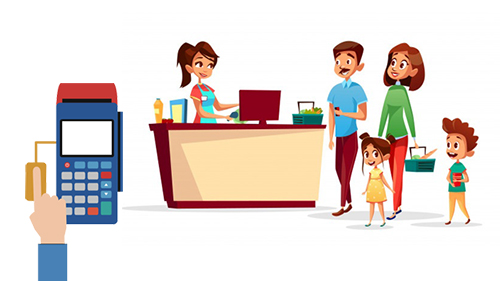 Balance Enquery
Customer can check balance his own account current balance using AADHAR Enabled Payment .Customer can do this without having any type of card like ATM,Debit ,credit etc. Also no need of smart phone and do not have to remember PIN or password.
It is very quick and available 24x7 and same process can be followed for the all bank associated this AADHAR number.
Mini Statement
In rural India net banking service or ATM service is still not associated with people's day today life. People are facing huge see his own bank account's Mini statement and sometimes paying good amount to see Mini statement.
AADHAR Enable Payment Service provide Mini statement service at your door step and free of cost .